PROFESSIONAL ASSESSMENT CRITERIA (PAC)
1. Description of seizure: Preictal, ictal, and postictal; also timing.
2. History of previous seizure disorder.
3. Description of triggering factors (e.g., hot showers, flashing lights, fatigue, drinking alcohol).
4. History of co-morbidities: Cerebrovascular disease, renal disease, cancer, brain tumors or metastasis.
5. History of medications: High-dose narcotics, meperidine, phenothiazine antiemetics, products with diphenhydramine, chemotherapy, compliance with antiepileptic medication, toxic levels of antiepileptics.
6. Neurologic examination: Executive thinking, memory, movement, sensation, balance, and coordination.
7. Neuroimaging: CT scan or MRI with and without contrast may show structural changes related to the cause of the seizures.
8. Labs: Hepatic and renal dysfunction, electrolyte imbalance (hyponatremia, hypomagnesemia, hypocalcemia or hypercalcemia, hyperglycemia, hyperphosphatemia).
9. Electroencephalogram: To localize a seizure focus or determine whether seizure activity is ongoing.
NURSING CARE AND TREATMENT
1. Simple focal seizure:
• Time and observe the seizure activity.
• Document the date, time, and description.
• Note whether movement or sensation extended to another part of the body.
2. Complex partial seizure:
• Observe the behavior and protect the patient from harm.
• Keep a calm manner to lessen the patient's agitation and the family's anxiety.
• Do not restrain the patient; instead, guide the movements to prevent harm.
• Stay with the patient until consciousness is fully regained.
• Gently reassure and reorient the patient.
• Document the date and time of the seizure and the activities before, during, and after it.
3. Tonic-clonic generalized seizure (
Fig. 40.1
):
• Assess the patient's level of consciousness.
• Protect the patient from self-harm during the ictal phase.
• Place a pillow, towel, or something soft under the patient's head.
• Remove eyeglasses and loosen constraining clothing.
• Do not force anything into the patient's mouth.
• Time the seizure and observe actions and behaviors.
• After the seizure, observe the patient's level of consciousness.
• Turn the patient onto his or her side; do not give liquids because of the high risk of choking.
• Allow the patient to sleep, then reorient the patient upon awakening.
• Document the date and time of the seizure and the activities before, during, and after it.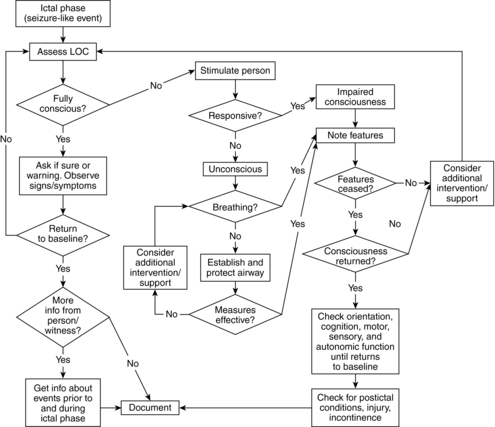 Fig. 40.1Nursing assessment algorithm for seizures.(Fisher, R., Long, L., & White, I. [2004]. Guide to care of the patient with seizures. American Association of Neuroscience Nurses. Retrieved May 10, 2006, from www.aann.org.)
4. Status epilepticus:
• Evaluate airway, breathing, and circulation.
• Rapidly determine and treat for hypoglycemia and hypoxia to prevent further seizures.
• Give initial injection of diazepam or lorazepam. Additional antiepileptic drugs (e.g., fosphenytoin, phenytoin, and phenobarbital) may be required to prevent more seizures (
Table 40-2
).

Table 40-2



Drug/Daily Dose


Therapeutic Blood Levels


Toxicities


Monitoring






Phenytoin (Dilantin) 300-500 mg

Fosphenytoin (Cerebyx) IV

Full access? Get Clinical Tree

Get Clinical Tree app for offline access