PROFESSIONAL ASSESSMENT CRITERIA (PAC)
1. Hyperkalemia can be difficult to diagnose clinically, because the patient may have no or only vague complaints. Hyperkalemia frequently is an incidental laboratory finding.
2. Elevated serum potassium.
3. Check the BUN and creatinine to evaluate renal status.
4. Check the calcium level; in patients with renal failure, hyperkalemia can exacerbate cardiac arrhythmias.
5. Check the digoxin level if the patient is taking a digitalis medication.
6. Check the arterial blood gases if acidosis is suspected.
8. Cardiac examination may reveal extrasystoles, pauses, or bradycardia.
9. Neurologic examination may reveal diminished deep tendon reflexes or decreased motor strength.
10. Severe cellular injury can cause tumor lysis syndrome:
• Most common in cancers such as leukemia and lymphoma (especially Burkitt's lymphoma)
12. Marked thrombocytosis or leukocytosis
13. Improper handling of blood specimen:
• Tourniquet applied too tightly, or blood sample taken from the arm into which potassium is infusing.
14. The severity of ECG abnormalities corresponds with the severity of the hyperkalemia. As hyperkalemia worsens, the ECG shows increased T-wave amplitude, decreased R-wave amplitude, increased S-wave depth, depressed ST segment, prolongation of P-R intervals, and widening of the QRS complex, then a sine wave pattern, and finally asystole or ventricular tachyarrhythmias (
Fig. 24.1
) (
Casciato, 2004
).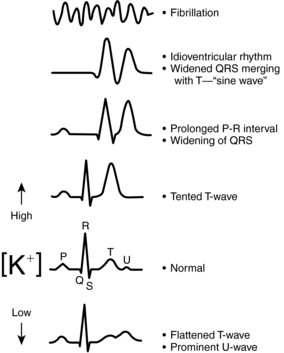 Fig. 24.1Characteristic effects of hypokalemia and hyperkalemia on the electrocardiogram.(From Gennari, F. J. [2002]. Disorders of potassium homeostasis: Hypokalemia and hyperkalemia. Critical Care Clinics, 18[2]:273–288.)
NURSING CARE AND TREATMENT
1. Verify that the potassium level is truly elevated (repeat serum potassium, measure plasma potassium; avoid treating pseudohyperkalemia).
Full access? Get Clinical Tree
Get Clinical Tree app for offline access