Protecting, Sustaining, and Empowering: A Historical Perspective on the Control of Epidemics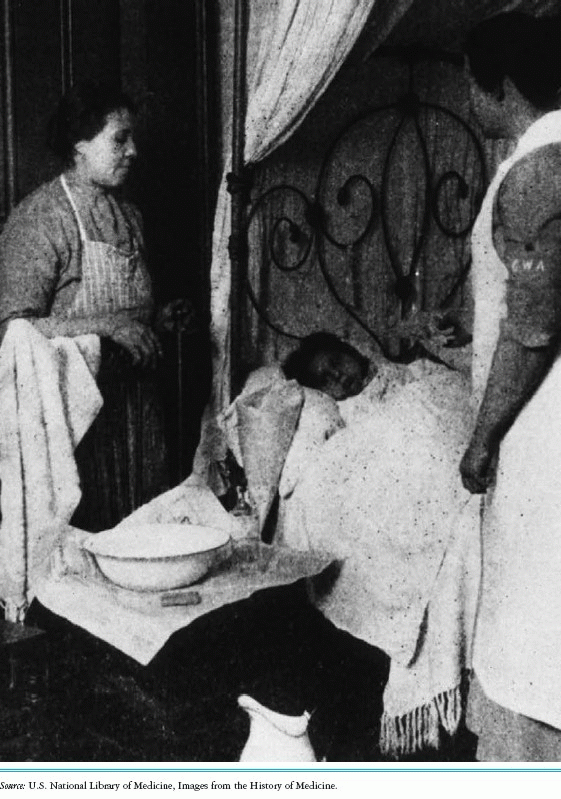 Does not the popular idea of "infection" involve that people should take greater care of themselves than of the patient? That, for instance, it is safer not to be too much with the patient, not to attend too much to his wants? Perhaps the best illustration of the utter absurdity of this view of duty in attending on "infectious" diseases is afforded by what was very recently the practice, if it is not so even now, in some of the European lazarets—in which the plague-patient used to be condemned to the horrors of filth, overcrowding, and want of ventilation, while the medical attendant was ordered to examine the patient's tongue through an opera-glass and to toss him a lancet to open his abscess with! True nursing ignores infection, except to prevent it. Cleanliness and fresh air from open windows, with unremitting attention to the patient, are the only defense a true nurse either asks or needs. Wise and humane management of the patient is the best safeguard against infection (Nightingale, 1860/1980, pp. 23-24).
LEARNING OBJECTIVES
At the completion of this chapter, the reader will be able to





Explore the ways in which human societies have attempted to combat global epidemics.






Appreciate the role of the nurse, working alongside governments, doctors, and scientists, in the prevention of epidemic diseases.






Explore the role of the nurse in the treatment and care of patients with lifethreatening infectious diseases at different historical moments and in different places.
KEY TERMS





Epidemic disease






Infection control






Pandemic
From its beginnings, the human race has shared its habitats with infective microparasites. Harmless—even beneficial—microbes inhabited our planet long before we emerged as a species. They began the long evolutionary process that would enable them to live alongside—often in parasitic or symbiotic relationships with—their neighbors before the antecedents of the human species had even emerged from the primeval ocean. Catalyzing vital processes, such as the decomposition of the planet's toxic organic waste, microbes have long existed in a precarious, yet often positive, relationship with other organic life. Yet human beings notice their presence only when they fail to adapt quietly and harmlessly to the changing patterns of human life.
Of the many microparasites that inhabit our environment, it is the most inefficient—the least well adapted—that cause recognized infections. A "bug" that fails to live symbiotically with its host may expect to limit its own lifespan. If it kills its host, it will die. If it keeps the host alive yet in a weakened state, it can expect that its host will eventually find a way to eradicate it. The purpose of this chapter is to trace the means by which humans have attempted to eradicate certain of those "bugs" they consider harmful: the bacteria and viruses that cause epidemic and endemic infections. The chapter focuses on three case studies of specific diseases appearing at specific historical moments: bubonic plague, as it appeared in the early modern Italian city-states during the 16th and 17th centuries; "Spanish influenza" as it appeared in the cities of the United States in 1918 and 1919; and AIDS as it appeared in the United Kingdom during the 1980s.
The bubonic plague bacillus and the influenza virus caused
epidemic diseases
that affected such large sections of the world's population that they came to be seen as "global epidemics" or, more correctly, as
pandemics
. HIV exists on the cusp between endemic and epidemic disease, affecting large numbers of people worldwide; it is often spoken of as an epidemic because of its capacity to spread rapidly in certain populations and geographical areas of the world at certain times.
Humans have taken a range of measures to protect themselves against or to destroy pathogenic microorganisms. Through its case studies, this chapter considers four different approaches to disease: state-sanctioned control measures, medical interventions, nursing care and support, and individual empowerment. It traces the means by which human societies, more or less effectively, learned to protect themselves against, overcome, and survive severe life-threatening infection on a large scale. It focuses, in particular, on how societies mobilized and used nurses as "front-line" agents in combating infection.
Protecting the People Against God's Wrath: Bubonic Plague in Early Modern Italy